Events
Daniela Antoniali and Berkeley Rodmell
from 06 Oct 2017 to 29 Oct 2017
Art Exhibition in Como
Exhibition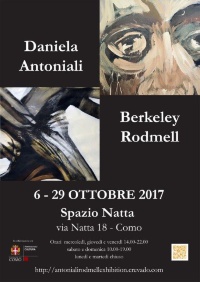 From 6 to 29 October 2017 the Spazio Natta hosts the Art Exhibition by Daniela Antoniali (San Vito al Tagliamento 1960) and Berkeley Rodmell (Rome 1976) organized in collaboration with the Department of Culture of the Municipality of Como. These two artists present figurative paintings. 10 acrylics by Daniela Antoniali, poetic oils on paper glued on canvas, dating from 1990 to 2017 and 7 expressionist paintings by Berkeley Rodmell, enamels on cardboard or on board from 2015-16.

Daniela Antoniali had a long educational background, studying in Venice with Emilio Vedova at the Accademia di Belle Arti in Venice and in Como with Georg Baselitz, Arnulf Rainer and Francesco Somaini at the Fondazione Ratti. Daniela has been exhibiting in various venues and was appointed Councillor of Culture in the municipality of Laglio (Como).
Berkeley Rodmell, nom de plume of Fabrizio Nanni, had a various background in the art world. In Rome Berkeley studied visual arts with Samuel Montealegre and also theatre at the Silvio d'Amico National Academy of Dramatic Arts working with the Living Theatre and Pina Bausch.


Hours
Opening Hours

Wed, Thu, Fri 2pm to 10pm
Saturday and Sunday 10am to 7pm
Closed on Monday and Tuesday



indietro