Events
Reality, dreams, visions
from 19 Jan 2020 to 02 Feb 2020
Solo exhibition by Massimiliano Miazzo
Exhibition
Exibition's opening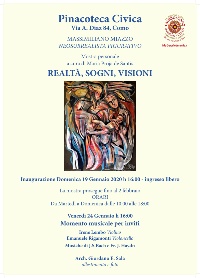 Massimiliano Miazzo, neo-figurative artist with a rich dreamlike and surreal imagery, will present his most recent works inspired by three fundamental themes characterized by strong symbolic connotations: Thorns and the rose, From earth to heaven, Mysteries of creation, in the context of the solo exhibition 'Reality, dreams, visions'.

The exhibition is curated by Maria Proja de Santis.

Opening on Sunday 19th January at 4.00 pm with free admission.
Info
where: Pinacoteca civica, via Diaz 84 - Como
Entrance subjected to a fee

Opening on Sunday 19th January at 4.00 pm with free admission
Hours
Tuesday to Sunday: 10.00am to 6.00pm
indietro