Events
Teatro Sociale and Aperitivo!
from 20 Jan 2018 to 20 Jan 2018
Guided Tour of the secret corners of the Theatre
Guided Tour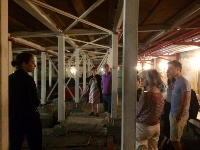 The Teatro Sociale in Como opens its doors to the city, to citizens and to tourists alike.

How does the Royal seat look like? Why is that room called "Pasta"? What's upstage? And under the stage?

Visitors will be accompanied to visit the halls, the "behind the scenes" and the mysterious places of the theater, usually inaccessible to viewers.

The visit takes about 45 minutes and includes a guided tour of the Foyer, the Pasta Room, the Main Hall, stage orders, galleries, the Painters' Hall, and then it will take you to the stage, dressing room, tailoring, Canonica, underpass and Arena. Visits are in Italian and English.

It will be an unforgettable opportunity that will allow citizens and visitors to feel closer to the beautiful Theatre. End it in style with a gourmet Aperitivo!




Info

Venue: Teatro Sociale, piazza Verdi
Visit and aperitivo: 10€ per person
Visit only: 5€ per person
For booking and info: biglietteria@teatrosocialecomo.it

Visits are in Italian and in English



For extra info and to book the visit, please write to: biglietteria@teatrosocialecomo.it 

More information on the Italian website
indietro