Cernobbio and "La Via dei Monti Lariani" (Lariani Mountain Trail)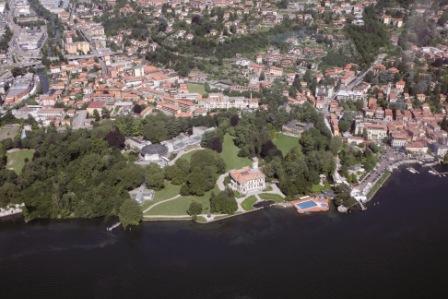 Cernobbio is a renowned tourist resort on the shores of the lake at the foot of Monte Bisbino. Along its banks there are some villas of rare beauty, including Villa d'Este and Villa Erba, which is now an exhibition centre, Villa Bernasconi and Villa Pizzo.
It is reachable by boat or by taking a pleasant walk of around forty minutes: from the grounds of Villa Olmo, along the Kilometre of Knowledge, a green and cultural corridor of great natural beauty set in a unique landscape. The kilometre links the old parklands of the exceptionally beautiful historic mansions that overlook the lake, namely Villa Olmo, Villa del Grumello, and Villa Sucota. After the Kilometre of Knowledge the walk or cycle ride continues along the first limb of the eastern slopes of the lake.
From Cernobbio you can proceed to the Sanctuary of the Blessed Virgin on the summit of Monte Bisbino, taking a scenic route that offers breath-taking views of the lake.
The Lariani Mountain Trail also starts in Cernobbio, a route at high altitude that runs along the western shore of Lake Como up to Sorico; it provides beautiful views and a charming mountain environment. Along the trail there are numerous mountain lodges where you can stay overnight and/or taste typical traditional dishes.

indietro