Roman Como
Discover Roman Como, its history, art and culture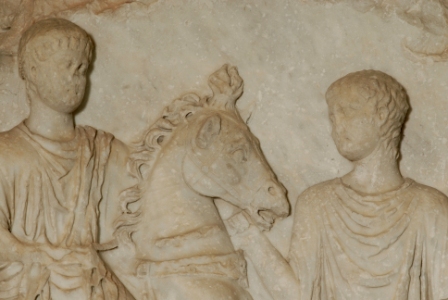 The modern city, with its grid-iron road layout, reflects the ground plan of the settlement the Roman Novum Comum grew out of. The main east-west axis of the Decumanus road corresponds to the current Via Independenza and the Cardo maximus to Via Cesare Cantù.
Starting from the Porta Torre gate, in largo Miglio, within a nineteenth century building on the right, is Porta di Como Romana (Como's original Roman Gate). This was the main Milan access point and headed north, across the lake or along Via Regina. The archaeological remains of the gate were discovered in 1914 and recently became part of the new museum itinerary.
Continuing along Via Cesare Cantù, eight marble columns come into view as used for the neoclassical façade of Liceo Classico Volta (High School). These were from the paleo-Christian baptistery of San Giovanni in Atrio, where they had in fact already been reused from an unknown monument of the Roman age.
Turning right in Via Giovio we enter Piazza Medaglie d'Oro which is home to the Museo Archeologico Paolo Giovio (Archaeological Museum) which houses exhibits from the local area from the Palaeolithic era to the late Roman period. The Roman world itself is illustrated by the finds discovered in and around the city as well as with models and graphic reconstructions. Architectural marbles testify to the sophistication that must have characterised the city in the early centuries after Christ.
Turning right into Via Perti after proceeding along Via Vittorio Emanuele II, the visitor can go to see the Terme (Roman Baths) of Viale Lecco. Their remains are in a recently built multi-storey car park and are open to public view. They were built in the second half of the first century AD and are an indication of the importance of the city at that historical moment. They expanded in the second century AD and fell into disuse in late antiquity, while the area outside the walls came to be occupied by a necropolis.
The visit ends with a walk down Via Indipendenza, the Decumanus, to Piazza San Fedele, which was most likely the site of the ancient Roman Forum.
indietro