Events
Baradello by night
Date: 22 Oct 2022 dalle 21:30 alle 23:59
Evening excursions up to the Baradello Tower
Guided Tour
Cos'è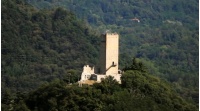 Torches in hand you will walk through the woods separating the town from the hill of Castel Baradello in the company of our guide.
Symbol of the city of Como, the "stone sentinel" erected for the defense of Como, the Baradello Castle is clearly visible to anyone approaching the city.
The Castle is located in a significant strategic point. From the top of the Tower you can enjoy a truly breathtaking view: from Switzerland to Milan, from Monte Rosa to Resegone. A unique 360 degree view of the lake, the Alps and the entire Po Plain.
Orari
Date: 22 Oct 2022 dalle 21:30 alle 23:59
9.30pm
indietro