Events
Castello Baradello
from 15 Oct 2022 to 16 Oct 2022
Tours with booking required
Guided Tour
Cos'è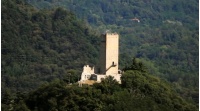 Symbol of the city of Como, the "stone sentinel" erected for the defense of Como, Baradello Castle is clearly visible to anyone approaching the city.

The Castle is located in a significant strategic point. From the top of the Tower you can enjoy a truly breathtaking view: from Switzerland to Milan, from Monte Rosa to Resegone. A unique 360 degree view of the lake, the Alps and the entire Po Plain.

Inside the Museum, the guides will take the visitor on a voyage through time, from the origins of Como to the present day.
Orari
from 15 Oct 2022 to 16 Oct 2022
Saturdays and Sundays, from 9:30am to 6:00pm
where: Castello Baradello, via Castel Baradello - Como
Difficulty: Suitable for everyone. The walk up to the tower is on a staircase suspended at about 15m of height, consider this if you are afraid of heights.
Equipment and clothing: comfortable, suitable for walking.
Children: Children are welcome, they love the Castle. Strollers are not allowed.
People with disabilities: The tower is not wheelchair accessible. Contact us for more information.
Guided tour, approx 40 min, departures from Castle entrance every hour
Saturdays and Sundays, from 9:30am to 6:00pm

Entrance Adult € 7.00
Child Entrance € 5.00 (from 6 to 14 y.o.)
Free admission up to 5 y.o.
People with disabilities and accompanying person free admission
Avoid the waits, book your visit in advance! Tickets can be booked online up to 30 minutes before the start time
Booking required
on the website Parco della Spina Verde
Facebook page
https://fareharbor.com/embeds/book/slowlakecomo/items/304666/calendar/2021/05/?flow=160024&full-items=yes
Further information (in Italian)
indietro