Events
Interior Beauties
from 17 Sep 2022 to 25 Sep 2022
Festival of Como, Brunate and Tremezzina's secret gardens
Other events
Exhibition
Theatre Cinema Music
Guided Tour
Cos'è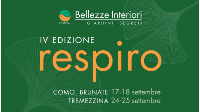 Interior Beauties is a project created to give the public access to places still unknown to most people today: the Festival of secret gardens in the historic centre of Como, Brunate and this year for the first time, Tremezzina.
This is an innovative project that has already been successfully carried out by other Italian companies in order to raise awareness of the protection of common resources, teach respect for the environment, and rediscover the beauty of our historical and cultural heritage through the opening of green spaces.
Not just the purely physical opening of the gates, but also an internal opening towards the other for the realisation of a real moment of urban sharing, contributing to an increase in the value and visibility of one of the most beautiful cities in the world.
Orari
from 17 Sep 2022 to 25 Sep 2022
Como and Brunate: Saturday 17th and Sunday 18th September; Tremezzina: Saturday 24th and Sunday 25th September
10am-12.30pm and 2.30pm-7.00pm
indietro