Events
Omaggio a Buzzati (Tribute to Buzzati)
Date: 14 Sep 2022 dalle 21:00 alle 23:59
LakeComo International Music Festival
Theatre Cinema Music
Cos'è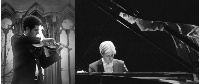 Since 2006, Amadeus Arte organizes the LakeComo International Music Festival, a series of concerts in intimate spaces within the beautiful villas and gardens overlooking Lake Como, in the historical town of Como and in selected villas and theaters of Brianza region.
The Festival has always programmed side by side classical repertoire and new music developing itself in balance between tradition and innovation. Always bilingual (Italian and English), the Festival guested many famous Italian and international artists.
The excellent acoustics of concerts' locations allows to enjoy music. Lectures or Guided Tours often accompany the concerts and the artists often introduce the pieces in a direct relationship with the public.
In collaboration with Parolario.
Wednesday 14th September 2022
9.00pm
Villa Bernasconi
OMAGGIO A BUZZATI (TRIBUTE TO BUZZATI)
STEFANO RONDONI, FRANCESCO ATTESTI (VIOLINO E PIANOFORTE)
Programme
W. A. MOZART
Sonata K 304 in mi minore (Allegretto, Tempo di minuetto)
J. S. BACH
Partita BWV 1004 in re minore
G. ROSSINI
Ouverture da Il Barbiere di Siviglia (elaborazione di Francesco Attesti)
C. DEBUSSY
Sonata in sol minore (Allegro vivo, Intermède – Fantasque et léger, Finale – Très animé)
J. S. BACH
Ciaccona in re minore
Orari
Date: 14 Sep 2022 dalle 21:00 alle 23:59
9.00pm
where: Villa Bernasconi, Largo Campanini 2 - Cernobbio
Free admission subject to availability
indietro