Events
Passeggiate musicali (Musical Walks)
Date: 17 Sep 2022 dalle 15:30 alle 23:59
LakeComo International Music Festival
Theatre Cinema Music
Cos'è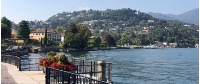 Since 2006, Amadeus Arte organizes the LakeComo International Music Festival, a series of concerts in intimate spaces within the beautiful villas and gardens overlooking Lake Como, in the historical town of Como and in selected villas and theaters of Brianza region.
The Festival has always programmed side by side classical repertoire and new music developing itself in balance between tradition and innovation. Always bilingual (Italian and English), the Festival guested many famous Italian and international artists.
The excellent acoustics of concerts' locations allows to enjoy music. Lectures or Guided Tours often accompany the concerts and the artists often introduce the pieces in a direct relationship with the public.

Saturday 17th September 2022
3.30pm
Hangar - Aero Club Como
PASSEGGIATE MUSICALI (MUSICAL WALKS)
In collaboration with Conservatorio di Musica di Como
MUSIC
Leonardo Morosini (violin)
Lorenzo Buzzotta (guitar)
PATH
Starting from the Como Hangar, you will arrive at the Villa del Grumello.
On the map the meeting point for the departure. The concert will be held in a location along the route.
Elsa and Patrizia will guide you for the walk.
Orari
Date: 17 Sep 2022 dalle 15:30 alle 23:59
3.30pm
indietro