Events
Symphonic concert - Mozart and Beethoven
Date: 11 Sep 2022 dalle 18:00 alle 23:59
Arte Solidale Festival
Theatre Cinema Music
Cos'è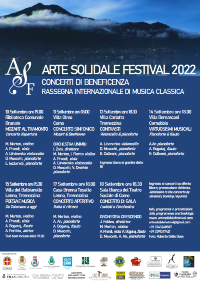 Arte Solidale Festival is an international classical music festival and charity, which takes place every year in the area of Lake Como, Italy.
The mission of the Festival is both to promote young artists as well as to support minors in need, by collaborating with social organisations in the territory of Lake Como.
The concerts, set during springtime each year, take place in historical villas and palaces on the shores of Lake Como, where composers like Franz Liszt and Johannes Brahms used to spend time and compose, inspired by the amazing landscapes. Multiple themed concerts, including solo recitals, chamber music and orchestral music concerts, are presented to the audience. Every year the Festival presents events dedicated to families with children, as well.
10 Sept, 2022
6.00pm
Villa Olmo - Como
The Orchestra of the University of Milan - Bicocca is taking part in the Festival for the first time, for a concert dedicated to Classicism in the splendid setting of the Salone di Villa Olmo in Como. Conducted by Iakov Zats, the Orchestra will be joined by several soloists alternating in three great masterpieces. Irenè Fiorito and Alessandro Prandi will perform Mozart's Sinfonia Concertante; Danilo Mascetti, Mira Marton and Anna Litvinenko will join forces for Beethoven's Triple Concerto; Vsevolod Dvorkin, famous pianist based in Como and close collaborator of ASF for many years, will be the soloist in Beethoven's Emperor Concerto.
PROGRAMME
W.A.Mozart: Sinfonia Concertante K. 364
Allegro maestoso
Andante
Presto
Irenè Fiorito, violino
Alessandro Prandi, viola
L. van Beethoven: Triplo Concerto op. 56
Allegro
Largo
Rondo alla Polacca
Danilo Mascetti, pianoforte
Mira Marton, violino
Anna Litvinenko, violoncello
L. van Beethoven: Concerto n. 5 "Imperatore" op. 73
Allegro
Adagio un poco moto
Rondo. Allegro
Vsevolod Dvorkin, pianoforte
Orchestra dell'Università di Milano - Bicocca
Iakov Zats, direttore
Orari
Date: 11 Sep 2022 dalle 18:00 alle 23:59
6.00pm
indietro