News
Launch of the UFirst service
Data: 10 Aug 2020
At the Como Piazza Cavour ticket office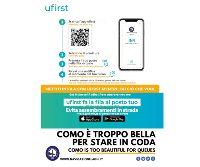 Monday 10 August 2020 sees launch of the experimental stage of the queue management system at the Como Piazza Cavour ticket office.

Just download the UFirst app, available free of charge from iOS and Android app stores and select the "Biglietteria Navigazione Lago di Como". This will let you book your turn at the ticket office, simply and without having to stand in a queue waiting to buy your ticket.

About 10 minutes before it is your turn, the system will send notification to your device with an invitation to come to the ticket office, where you will find a dedicated "UFirst" counter.
indietro