Events
Abstract Paintings Art Exhibit
from 02 Sep 2017 to 17 Sep 2017
Cavallasca Painters from Ms Colacevich's courses
Exhibition
Flavia Colacevich's students exhibit their Abstact Art pieces within the beautiful Broletto Tower in Como.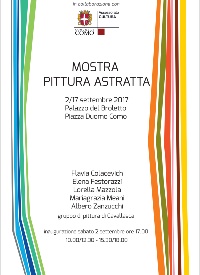 "Abstract art is the art of our time.
Painting, Painting - Painting. This is the way for now.
We are committed to arranging the elements of the composition, color, line, space, rhythm on paper and canvas at first, with different techniques: pencil, pencil, collage, acrylic, glaze paper, enamel.

Of course we have looked ar some of the great artisits of the past century: Mondrian's patterns, Sonia Delaunay's colors, Robert Kelly's collages, Louis Morris's fluid lines.
Today, we have a wealth of experience in evaluating the multiple possibilities of some contemporary artists across the ocean: light, energy, gesture, great size, space, versatile art rhythm, they all inspire new considerations and surprises.
The journey is long and it stimulates us to the daily exercise of painting. "
Info
Venue: Broletto, piazza Duomo (by the Cathedral, inside the Infopoint)
Hours
From Monday to Sunday: 10am - 12.30 / 3.30pm - 6pm
Free Admission
indietro