Events
Castello Baradello
from 25 Apr 2017 to 25 Apr 2017
April 25th Guided Tours at the Castle
Guided Tour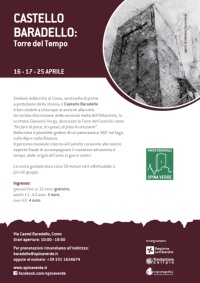 The symbol of the city of Como, stone guardian to the city itself, the Baradello Castle is clearly visible to anyone approaching the city.

The Castle occupies an important strategic point. From the top of the Tower you can enjoy a truly breathtaking panorama: from Switzerland to Milan, from Monte Rosa to the Resegone. A unique view, a 360 ° on the lake, the Alps and the entire Po Valley.

The internal museum enables guides to accompany the visitor through time, from the origins of Como to the present day. FThe Castle is open on April 25th 2017 from 10am to 6pm. The Castle can be reached on foot via a short and pleasant hike or by car via a dirt road. Parking spaces are limited.

The guided tours last about 30 minutes and can be carried out in small groups (maximum 15 people).
Info
Where: Castello Baradello, via Castel Baradello, Como
Please book your guided tour in English via email baradello@spinaverde.it or by calling +39.333 1634674.
Tickets:
Kids Under 12: Free
Adults 13 - 64 years old: 5 Euros
Over 65: 4 Euros
indietro