Events
Donegani, the engineer in the Alps
from 21 Jun 2019 to 14 Sep 2019
Documentary exhibition
Exhibition
Exibition's opening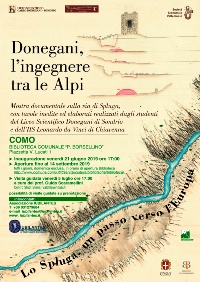 The exhibition has been organized by the students of the Liceo Donegani (Donegani High School) of Sondrio and of the Istituto Leonardo da Vinci (Leonardo da Vinci High School) of Chiavenna. The exhibition is about the challenge of a modern engineer dealing with the roughness of the Valchiavenna mountains, which Leonardo, in his "Codex Atlanticus", described as a valley where "you can find dry and very high mountains with big rocks" where "firs, larches and pines, fallow deers, ibexes, chamoises and terrible bears" and where "you can't climb up". Carlo Donegani's extraordinary feat, that 200 years ago created the Spluga carriage road- still very active – by turning the Spluga into a real "step towards Europe".
Iubilantes, in collaboration with the Civica Biblioteca "P. Borsellino" ("P. Borsellino" Municipal Library), has taken responsibility to present this exhibition in Como, not only to reveal how much Leonardo was enchanted by the waters of our lake and by strength of our mountains, but also to recall the extraordinary historical role played by the Passo Spluga (Spluga Pass) and by its ancient way. In fact, Como is the HUB of significant historical transalpine streets, among which the big axis (known on the west bank of the Lario as via Regina) that connected the Rhine valley with Milan and the Po valley through the Spluga and, for this reason, it was exalted by Iubilantes and named 'via Francigena Renana'.
In representation of Valtellina, the following personalities will speak: Ing. Benedetto Abbiati, chairman of Società Economica Valtellinese, Professor Giovanna Bruno, School director of the Liceo Donegani (Donegani High school), Professor Cristina Pedrana and b some students from the Liceo Donegani (Donegani High school).
Special guided tour: Friday, 5 July at 5.00 pm by professor Guido Scaramellini, chairman of Centro Studi Storici Valchiavennesi (Center of Historical Studies of Valchiavenna)
Catalogue available (upon contribution destined to the schools involved in the organization of the exhibition).
Info
where: Biblioteca comunale Paolo Borsellino (Paolo Borsellino Municipal Library), piazzetta Lucati 1 – Como
Free entrance
Hours
From Monday to Friday 9.30 am – 7.00 pm
Saturday 2.00 pm – 7.00 pm
From 5 to 23 August 2019: from 9.30 am to 2.30 pm
indietro