Events
Free Museums on Sunday in Como
from 06 Aug 2017 to 06 Aug 2017
Discover the Municipal Museums for free
Other events
Guided Tour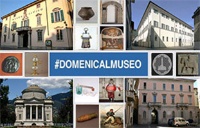 Sunday, August 6th 2017, the first Sunday of the month, the Civic Museums in Como will be open to the public with free admission from 10am to 6pm.
From the Neolithic, to the Roman conquest, discover the history of Como in a journey through times.
See Museum List below.

The City of Como has joined the initiative #DomenicalMuseo (Sunday at the Museum) by Mibact, Ministry of Cultural Heritage and Activities and Tourism, this initiative guarantees free admittance to everyone at the City Museums each first Sunday of the month.
Info
Como Museums included in the initiative:

Museo Archeologico and Museo Storico, piazza Medaglie d'Oro 1, Como
Pinacoteca Civica, via Diaz 84, Como
Tempio Voltiano, viale Marconi, Como
indietro