Events
La famiglia Nuvolone in concerto (The Nuvolone Family in Concert) ***Temporarily closed***
from 01 Feb 2020 to 29 Mar 2020
Art unveiled: masterpieces of the "Sant'Anna" Hospital's Quadreria (Picture Gallery)
Exhibition
Exibition's opening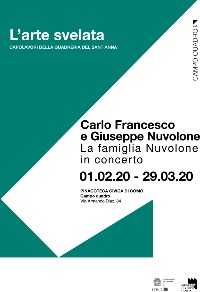 The Pinacoteca civica (Art Gallery) has recently acquired eight important paintings for its own collections from the "Sant'Anna" Hospital's Quadreria, thanks to an agreement with ATS Insubria (Local Health Protection Agency).
"Campo quadro", the contemplative space on the first floor of Palazzo Volpi, now unveils to the public the first of these valuable works: the Ritratto della famiglia Nuvolone in concerto (Portrait of the Nuvolone family in concert), by the seventeenth-century painters and brothers, Carlo Francesco and Giuseppe Nuvolone.
The canvas, of considerable size and enclosed in an exquisite frame with gold leaf decorations, depicts the Nuvolone painters' family, who were originally from Cremona and then established themselves in the Lombard artistic panorama at the beginning of the 17th century, with the father Panfilo (1581-1651), later followed by Carlo Francesco (1609-1662) and Giuseppe (1619-1703); also by, to a somewhat lesser degree, the other two sons Michelangelo and Giovanni Battista.
The characters are depicted in sumptuous clothes, intent on painting and playing musical instruments of that era, as a testimony to the cultural interests, prosperity and social prestige of the family.
The artwork will be able to be enjoyed by visitors from 1st February to 29th March 2020 in the "Campo quadro" space, a place of value, specifically designed for unveiling, discovering and admiring exclusive and previously unseen art masterpieces.

The series 'Art unveiled: masterpieces of the "Sant'Anna" Hospital's Quadreria' includes an exhibition on a rotational basis of the eight works of the Como hospital's collection, which have recently become part of the heritage of the Pinacoteca and which cover a time period from the '600s to the second half of the '900s.
The "Sant'Anna" Hospital's Quadreria has an impressive collection consisting of 238 works and which was established over the centuries thanks to donations and bequests to the hospital itself.
The recovery of these pieces and their transfer to the Pinacoteca are part of a programmed cultural development plan focused on the implementation of partnerships with different entities in the area, aimed at enhancing the city's historical and artistic heritage.
Hours
Tuesday to Sunday: from 10.00am to 6.00pm
indietro