Events
Mario Radice
from 14 Jun 2019 to 14 Sep 2019
Bibliographic and iconographic paths among the documents kept in the library
Exhibition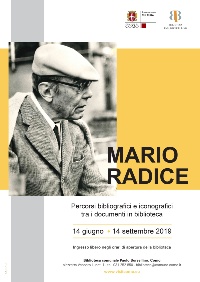 For the exhibition in the Pinacoteca called 'Mario Radice il pittore e gli architetti. La collaborazione con Cesare Cattaneo, Giuseppe Terragni, Ico Parisi', at the biblioteca comunale (municipal library) P. Borsellino in Como, from Friday, 14 June, it will be possible to visit the exhibition 'Mario Radice. Percorsi bibliografici e iconografici tra i documenti in biblioteca (Mario Radice. Bibliographic and iconographic paths among the documents kept in the library), curated by Chiara Milani, scientific director of the library, with the collaboration of Kristina Rakitova.
The artist is remembered through catalogues of solo exhibitions, critical essays on his work and a selection of reviews that Radice, in his quality of critic, signed for contemporary artists.
Posters, invitations and photographs taken from the archive of Aldo Galli kept in the library, recall the relationship between the two artists, Radice's participation in the group exhibitions of the Gruppo Como and international exhibitions of contemporary art, including a traveling exhibition in the United States and participation in art exhibitions organized by the town of Fulda twinned with Como.
Drawings and prints by Radice taken from the contemporary graphic arts collection of Como kept in the library, complete the exhibition.
Info
where: Biblioteca comunale Paolo Borsellino, piazzetta Lucati 1 - Como
Free entrance
Contacts: biblioteca@comune.como.it
Hours
Monday to Friday 9.30 am -7.00 pm
Saturdays 2.00 pm - 7.00 pm
From 5 to 23 August 2019: from 9.30 am to 2.30 pm
indietro