Events
Oltre la città. Periferie urbane e fabbriche dismesse (Beyond the city. Urban and disused factories suburbs)
from 04 Mar 2017 to 26 Mar 2017
Exhibition of Lorenzo Curioni
Exhibition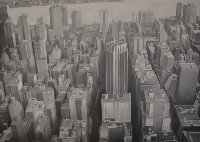 San Pietro in Atrio will host the exhibition of Lorenzo Curioni entitled "Oltre la città. Periferie urbane e fabbriche dismesse" (Beyond the city. Peripheral urban areas and disused factories suburbs), organized in collaboration with the Department of Culture.
On display more than 20 paintings of the artist's recent production. The images proposed open the door to an area of the metropolitan city that looks like the typical area now commonly called industrial archeology.
The buildings, the colours, the atmosphere in the streets which sweeps us away to the past that the habit has integrated. Curioni's painting brings us to those places and the exhibition is an overview of the reality influenced by the Chiarismo (Lombardy art movement)
The painter represents on canvas a deep relationship between man and space, which is mostly visible in the urban habitat where human presence traces its history and where it is possible to perceive different pace of a daily life or impregnated through the signs of its past with which he has always learned to cohabit. The artist painted this complex reality and revealed its pace.
This is an important artistic opportunity to revisit a piece of our history.
Biography
Lorenzo Curioni was born in Alzate Brianza in 1951 and he started painting as a self-made artist at a young age.
Later he perfected his education thanks to the attendance of some painting and nude courses held at the Art School of Lecco by Professor Angelo Bellini. During the first two decades, he experienced several painting techniques including watercolours, engravings and oil with interest at both landscapes and nude. From 2000, Curioni focused his artistic interest on metropolis. The preferred technique was oil on canvas and monochromatic colour. He exhibited at galleries and museums of many Italian cities.
Info
From 4 to 26 March 2017
San Pietro in Atrio
Via Odescalchi, 3
Hours
Thursday- Friday at 3 pm- 7 pm
Saturday and Sunday 10 am-12pm / 3 pm -7 pm
Monday closed
Opening Saturday, March 4 at 18
indietro