Events
Racconti da camera
from 28 Sep 2019 to 28 Sep 2019
AcCOMOdatevi - Take a seat
Theatre Cinema Music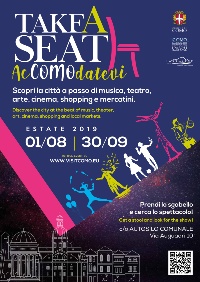 In 'Racconti da camera' (colloquial tales), Morici reads the best of his short repertoire as well as new hilarious tales.
Stories of real life like `Bancomat` (ATM), where Morici misdials the PIN number and travels through time. Short essays such as `7 frasi per rimettersi con la ex' (7 sentences to get your former partner back). Invectives like ` Me ne vado da San Lorenzo` (I'm getting out of San Lorenzo) inspired by his escape from the radical chic neighborhoods, elaboration of the famous text by Remo Remotti ` me ne vado da Roma ` (I'm getting out of Rome). Not to mention the brilliant `tema delle medie` (middle schools' essay) and the 2016 Rome phone book review.

Stories, confessions, short essays, phone calls. A comedy and thoughtful show that fits well with the location, the time and mental state of the audience and the author.

The leaflet with all the events that will take place on August and September in Como
Info
where: Pinacoteca civica, via Diaz 84 - Como
Event is free, subject to availability (max 50).

By presenting your ID card at the parking garage in via Auguadri, you will receive a camping stool to attend the show and to be returned at the end of the event.
Hours
At 7.00 pm - repeat performance at 10.00 pm
indietro