Events
Sky's the limit. La città che incanta | Art Exhibit
from 15 Jul 2017 to 06 Aug 2017
Art exhibit by Marcella Chirico
Exhibition
Exibition's opening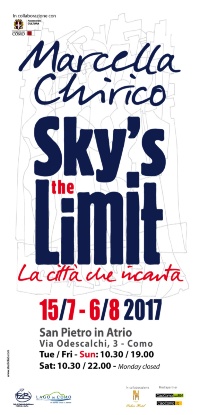 Art Exhibit by Marcella Chirico
Inside the suggestive frame of San Pietro in Atrio, a former pre-Christian church dating to the early Christian era now converted into a cultural exhibition space, on July 15th there will be the Opening of "Sky's the Limit", the new exhibition by artist Marcella Chirico.
The former church appears to our eyes as the result of centuries of history, which harmoniously mixes with the contemporary art of the Chirico. The artist, who had already exhibited in San Pietro in Atrio with the exhibit "Vertical City" in 2008, is multifaceted and able to model the most varied materials by shaping her imagination, in which the fascination for the slender metropolitan architectures coexists with the fear that they represent a mere prison of modern human beings. Metallic laminates combined with vivid colors create infinite skyscrapers, a world of vertical messages and geometries that communicate in an urban lexicon. Man defies his limits by creating architectures whose only obstacle seems to be the sky, but seen from below, they amplify human finitude, helpless before that.
A a chaotic and crazy world, where the dialogue between metropolis and men demonstrates all its fragility.
Info
Venue: San Pietro in Atrio, via Odescalchi 3
Free Entry
Hours
Tuesday, Friday, Sunday 10.30am - 7pm
Saturday 10.30am - 10pm
Monday Closed

Opening on July 15th at 6pm
indietro