Events
Waves #1
from 09 Sep 2019 to 14 Sep 2019
Three generations compared
Exhibition
Exibition's opening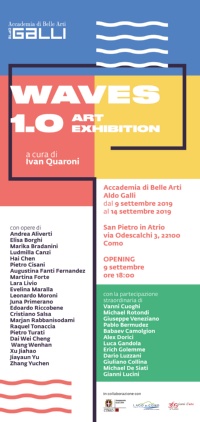 Waves, "onde": is the title of the exhibition organised by the Aldo Galli Academy of Fine Arts – IED Network, in collaboration with the Department of Culture of the Municipality of Como, at San Pietro in Atrio, the evocative exhibition space of the Municipality of Como dedicated to contemporary art. A selection of works produced by the students of the three-year Painting and Visual Languages course will be presented, as well as some works by former students and teachers of the Academy.

Waves aims to represent the creative flow that ideally links the past, present and future of the Galli Academy, through the expressive language of artists belonging to different generations: first of all, the students who are preparing to face the challenges of the contemporary art system and who are building their own artistic identity. Then the teachers, the "masters", who with great passion share their experience and knowledge every day; finally, the graduate students who, after the end of the training course have embarked on their own path of growth, while keeping the link with the Academy alive. Thus, three generations confront each other in a real dialogue, with art and the power of image as its centre.

The exhibition, curated by Ivan Quaroni, didactic coordinator of the Painting and Visual Languages course of the Galli Academy and professor of Contemporary Art History, includes works by teachers Vanni Cuoghi (Painting 1 and Painting techniques), Micheal Rotondi (Painting 2 and 3), Giuseppe Veneziano (Drawing), works by former students such as Pablo Bermudez, Babaev Camolgion, Alex Dorici, Luca Gandola, Erich Golemme, Dario Luzzani and, finally, works by the students of the three-year course of the 2018/19 academic year.
Info
where: San Pietro in Atrio, via Odescalchi 3 - Como

Free entry
Hours
Every day from 11 am to 6 pm

Opening on Monday 9th September at 6 pm
indietro