Events
Women and science, from past to future
from 08 Mar 2017 to 29 Apr 2017
Exhibition to celebrate the 150th anniversary of the birth of Marie Curie
Exhibition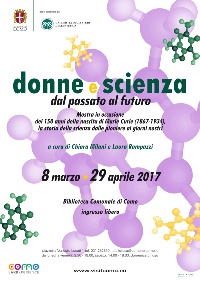 The Como Public Library celebrates the anniversary of the birth of Marie Curie (1867-1934), with an exhibition curated by Chiara Milani and Laura Rampazzi, entitled Donne e Scienza, dal passato al future (Women and Science, from past to future).

The exhibition dedicated to the great scientist, twice Nobel Prize winner, is an opportunity to draw the attention to those women who, from antiquity to the present day, have chosen science as field of research; women who - despite a male dominated society and the consequent exclusion from regular studies - have taken the path of science with great difficulty but with incredible determination, achieving interesting or important results.

As usual, the events in libraries benefit from the extensive book and documents heritage carefully kept: a quarry from which knowledge can and should be drawn, looking back over centuries.

The public library will show its books, including the Phd thesis in chemistry of Marie Curie published in Paris in 1904; The catalogue, published in Milan in 1901 one of the first exhibitions dedicated to illustrious Italian women including the first scientists; two old books of alchemy and herbal cures; The first edition (1789) of the French Section of Antoine Lavoisier chemistry, illustrated by his wife Marie, also chemistry.

Info
dove: Biblioteca comunale, piazzetta Lucati 1


Free Entrance
Hours
Monday-Friday: 9.30 am - 7 pm
Saturday: 2-7 pm
Sunday: CLOSED
indietro