Events
Nabucco - Opera under the stars
from 29 Jun 2017 to 04 Jul 2017
Participated Opera for the "Festival Como Città della Musica"
Theatre Cinema Music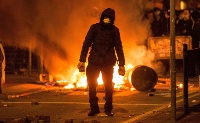 "Va, pensiero, sull'ali dorate..."
Enjoy the Opera in Como!
Four-part drama. Temistocle Solera Booklet. Music by Giuseppe Verdi
First performance of this Opera took place at the prestigious Teatro alla Scala in Milan, March 9, 1842

Cast
Nabucco: Alberto Gazale
Ismaele: Manuel Pierattelli
Zaccaria: Abramo Rosalen
Abigaille: Elena The Fort
Fenena: Irene Molinari
Belo Priest: Shi Zong
Abdallo: Claudio Grasso
Anna: Tiberia Monica Naghi

Director Jacopo Rivani
Directed by Jacopo Spirei
Scenes and costumes Mauro Tinti

Light designer Giuseppe Di Iorio

Master Choir Giuseppe Califano, Giorgio Martano, Mariagrazia Mercaldo, Mario Moretti

Chorus 200.Com
With Coro Città di Como, Coro white voices of the Teatro Sociale di Como

Orchestra 1813

Production Teatro Sociale di Como AsLiCo

After the success of the first four editions of the 200.Com project, which was created on the occasion of the bicentennial celebrations of Como's Teatro Sociale, a fifth edition dedicated to the Verdian choral opera par excellence: Nabucco.
Following the general theme of the Festival, linked to the participation, will not only involve more than 300 people in the area, both amateurs and professionals - as the primary aim of the project is; But also the audience will be required to take an active part in the ambitious show designed by young director Jacopo Spirei, within an environment that will take place in a contemporary urban context, to overcome the ever-present conflict between oppressed and oppressed, freedom and Imprisonment, refugees and not.
On the podium, the return of Director Jacopo Rivani.
Info
Venue: Arena Teatro Sociale, via Bellini

Tickets can be purchased online or at the Teatro Sociale ticket office

Hours
9.30pm

June 29th, 2017
July 1st, 2017
July 4th, 2017
indietro