Como in 48 hours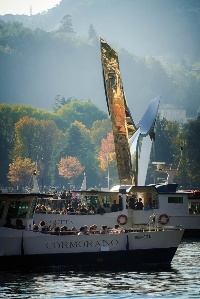 48 hours to discover the city and the lake
Staying overnight in Como and want to get to know the city and its lake?
With two days at your disposal you can ...
...happily enjoy visiting churches and museums, shopping and good food if you prefer a city break;
... take a trip on board the lake ferries, if you want to fully experience the magic of the "most beauti-ful lake in the world".
...set off along the many scenic trails in the surrounding mountains, if you are a keen hiker or MTB fan;

Whatever your passion, Como is the perfect choice!
Day 1
More than a City
Day 2
Green and blue well-being at the Lake
... and while 48 hours might not sound long enough, it's enough for a real holiday feeling.

Discover the programme in the relevant brochure

An emotional video to begin exploring the city!
Complete transcription from speech
Are you thinking of giving yourself two days of relax?
Come and regenerate yourself in Como!!
Have you already arrived? Very well!
Cross the imposing walls passing through Porta Torre and let yourself be enchanted by the beauty of the city.
Relive history by visiting our museums!
Where to start from? You could take a trip to the Pinacoteca and contemplate its fantastic paintings.
How not to mention the Volta Temple, overlooking the deepest lake in Italy. This museum hosts a permanent exhibition, dedicated to the memory of the illustrious scientist who in 1799 invented the battery, the great Alessandro Volta.
Crossing the gardens, did you take a detour on the Diga Foranea to reach "Life Electric" of Libeskind?
No??? What are you waiting for??
while you are there, you could continue your walk on the lake, and just past the Aeroclub, you are in front of the sumptuous historic Villa Olmo.
Pay attention ... don't forget to take the nearby "Chilometro della conoscenza" reaching the parks Villa del Grumello and Villa Sucota.
You are hard to satisfied, aren't you? All right…
So why not take a relaxing cruise on the lake and stop off at Villa Carlotta, a place of rare beauty immersed in its botanical garden, or Villa del Balbianello or ...
Well, there are many fantastic villas to visit…
Wait... do you already know the Isola Comacina? It was a fortified citadel, with houses and churches surrounded by high walls. unmissable in your Como tour.
if you are a nature lover and maybe even a sports person, live your passions, venturing backpacking along scenic walks in the green or more challenging paths, traveling with your bicycle the roads of the great champions.
if you are tired just thinking about it and just want a little relax, go to Brunate comfortably seated in the funicular departing from Viale Geno. 1000 meters and 7 minutes later enjoy the wonderful view that only the San Maurizio lighthouse can offer its visitors. Do you see over there?? That's Milan!!
Don't you think that it's time to go shopping?
In the city you can find everything and for all budgets, from big brands to small artisans.
Fantastic, isn't it?
And now…how about an aperitif while enjoying the beauties of the lake? Not bad right?
Hungry? Oh yes, in fact it is the right time!
Let your self spoil by our restaurateurs! You are in Como, we reccomend a cours of our catch. Km 0? I would say cm 0!!
These two days have passed quickly don't you think? But in Como there is still so much to do and discover ... so ... See you soon !!
indietro