Risorgimento Como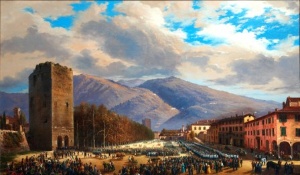 The route starts with a visit to the Garibaldi Museo Storico at Palazzo Olginati, where, as the memorial plaque on the façade says, Garibaldi stayed in 1866. The first two rooms, telling the stories of the years 1848-49 and of 1859, emphasize, with the many and varied exhibits, the active role that the patriots of Como played in the fight to liberate Como from the Austrians and the unification of Italy.
In the hall that looks at the years 1848-49 there is a coat of arms upon which stands the Austrian eagle. This came from the old Town Hall in via Cinque Giornate. Among the various items of memorabilia are the iron plates used to shelter from the assault at the barracks of San Francesco and fragments of an Austrian flag of Como from the "Prohaska Regiment", taken by the people of Como from the Austrian drummer who was held prisoner after the Five Days of Como. The 1859 room takes us back to the famous battle of San Fermo of May 27 1859.
Leaving the museum, along Via Balestra, you come to Viale Battisti bordered by the southern city wall, in front of which is the modern Court building and the former church of San Francesco, which is now Spazio Ratti, and which is all that is left of the Franciscan convent that the Austrians used as barracks.
In the mid-nineteenth century there was, along this section of the city walls, a great open space that the Austrian soldiers used for their drills and it was also here that they surrendered and finally handed over their flag to the Como patriots.
At the end of the avenue you come to Piazza Vittoria in which stands an imposing statue of Garibaldi, sculpted by Vincenzo Vela, inaugurated in 1889 to mark the thirtieth anniversary of the liberation.
The tour ends at the Pinacoteca, or art gallery, where a painting by Francesco Capiaghi is exhibited, with the wording "After the surrender, Como March 22, 1848": the painting depicts the surrender of the Austrian garrison in Piazza Vittoria after the Five Days in March 1848. The painter was himself an eyewitness to the event, and recalled with it on the occasion of its fiftieth anniversary.


indietro