9 things you might not know about Como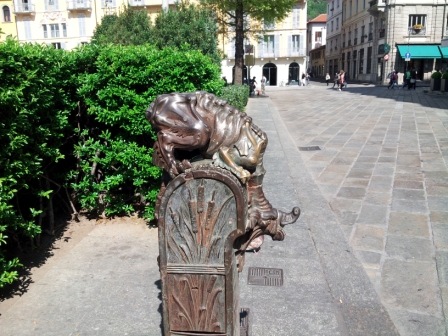 The locomotive and train of Luisa Aiani Parisi In the gardens by the lake you can find an example of locomotive and, in the playground nearby, a small and colorful stone train for kids by Luisa Aiani Parisi.

Cosima Liszt Cosima Liszt, daughter of Hungarian pianist and composer Franz Liszt and Marie d'Agoult, was born on Christmas Eve 1837 at "Albergo dell'Angelo" in Piazza Cavour. There you can find a commemorative plaque.

The green dragon If someone from Como invites you for a drink at the "green dragon", don't expect to sit in a fashionable cafè! The green dragon is a fountain in Piazza Cavour, where to get fresh still water from the jaws of a dragon.

The frog The northern door of the Cathedral is called "door of the frog" because of a frog trying to catch a butterfly, sculpted in the beginning of 1400. Touching the frog means good luck.

The ruins of the castle Teatro Sociale, which is the main theater in the city, was built in 1813 on the ruins of "Castello della Torre Rotonda", whose XIII century perimetral walls are still visible along via Bertinelli, via Indipendenza and via Bellini.

The Chimera and the dragons The "door of the dragon" in San Fedele Basilica (oriental side apse) shows a medieval bas-relief where a Chimera biting a dragon gets bitten by another dragon.

The mummy At the Archeological Museum you can find the sarcophagus of Isiuret, priestess of God Amon. This is one of the most famous pieces of the Egyptian collection. The mummy is shown to the visitors once a year.

Dama della Cortesella One of the oldest neighborhood of the city is the area around via Vitani, via Muralto and via Olginati that survived demolition. In via Vitani, Dama della Cortesella peeps out a window.

The cannon shot If you hear a cannon shot while walking around the city, don't panic! The cannon is loaded with blanks and strikes noon. The cannon is situated midway to Brunate.


indietro