Rationalism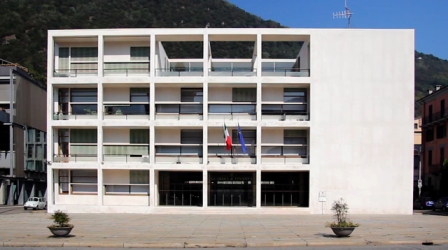 The itinerary starts from Pinacoteca Civica, the municipal art gallery, where you can learn of the work of Como's futurist Antonio Sant'Elia and see the works of the city's abstract artists who are closely related to its rationalist culture.
The route continues to Piazza del Popolo, home to Casa del Fascio, a masterpiece of Italian rationalism designed by Giuseppe Terragni in 1932 and completed in 1936. The building is now home to Guardia di Finanza, the tax enforcement force.
Walking along the lakeside you can visit the "rationalist quarter", between Viale Puecher and Viale Sinigaglia. The area was subject to architectural redevelopment that was important in terms of new materials used, as well as formally and in terms of the building models adopted for the constructions, with a very high priority being given to functionality.

Straight on to Novocomum, a block of flats designed in 1927 by Terragni, with its presentation of walls and glass surfaces. It was dubbed the "transatlantic liner" on account of its shape and size.
The visit continues with Casa Giuliani Frigerio, the last building designed by Terragni between 1939 and 1940, and an admirable example of its kind in its treatment of architectural volumes.
Also part of this district are the sports and leisure facilities made along the lakeside strip: these particularly include the Idroscalo (1930), the Yacht Club (1931), the Canottieri Lario boating club (1931) and the stadium (1927). The route concludes with the Monumento ai Caduti (War Memorial), built in 1933 by brothers Attilio and Giuseppe Terragni who were inspired by a sketch by Sant'Elia. It is a building in the form of a 33-metre high tower, which houses in its shrine a granite monolith bearing the names of the 750 fallen from Como in the World Wars. The staircase within has 140 steps that lead from the crypt to the top terrace from which there are unparalleled views of the city.
Of great importance are also the Asilo Sant'Elia (kindergarten) in Via Alciato, whose design was developed by Giuseppe Terragni in 1935, and the fountain in Piazzale Camerlata designed by Cesare Cattaneo and Mario Radice in 1935, to finally be built only in 1962.


See more pictures of the ex Casa del Fascio on Wiki Commons.
See more pictures of the War Memorial on Wiki Commons.
indietro