Castel Baradello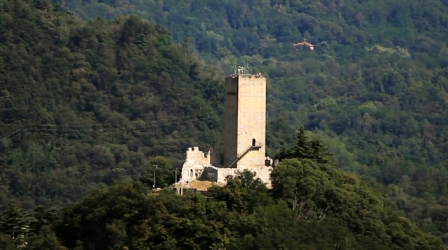 Starting from Piazza San Rocco or from Piazzale Camerlata, you can walk to the foot of Castel Baradello (check https://www.spinaverde.it/main/ for opening hours), rebuilt in the twelfth century by Frederick I, better known as Barbarossa. He had it built on the remains of an ancient sixth century fort. Under the rule of Azzone Visconti, the 19.5 metre high tower was raised by a further 8 metres in the fourteenth century. The castle has become the symbol of the city itself over the intervening centuries.
If you continue on to Respaù you will find there a splendid vantage point followed by the area of the archaeological excavations of Pianvalle. This area was that of the settlement of Comum Oppidum, an important centre inhabited by the Celts of the Golasecca culture of the Iron Age.
The settlement came to light during a series of digs which began in 1976, with many of the archaeological finds now exhibited in the Pre-Protohistoric Archaeological Museum section.
The walk can proceed on to the hill of Sant'Eutichio where there is a large iron cross and wonderful views of the city and the whole first branch of the lake.


indietro