From Medieval to Neoclassical Age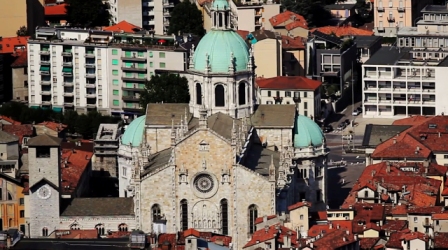 In Piazza Vittoria there is a fine view of the remains of the medieval walls with the three towers. Entering the walled city, you can visit the church of Santa Cecilia with its stucco decorations and baroque paintings. At the intersection with Via Giovio, turning left you reach the Pinacoteca (art gallery) where there is a section devoted to the Middle Age, with sculptures from the churches of Sant'Abbondio and San Fedele and frescoes from the church of San Giorgio in Borgovico. Moreover, there is the Renaissance section (portraits of Paolo Giovio, stained glass, sculptures, paintings from the Cathedral site) and the painting gallery. From Via Rovelli and Via Cesare Cantù you reach Piazza San Fedele, with the buildings of the sixteenth century, with their wood and herringbone bricks and the Basilica of San Fedele (twelfth century). On the side of the Basilica facing Via Vittorio Emanuele II, the view is caught by the beautiful portal flanked by romanesque relief sculpture. From here you can go on to Piazza del Duomo, overlooked by the Torre Civica (the Broletto) and the Cathedral.
The Duomo was built on the site of the previous Santa Maria Maggiore cathedral and has a longitudinal fifteenth-century structure which engages with the centric ground plan of the centric tribune built between the sixteenth and seventeenth centuries. Above these the dome designed by Filippo Juvarra in the eighteenth century. The sculptures are largely by Tommaso Rodari and his workshop. Among the masterpieces are the wooden altar of Sant'Abbondio, the wooden group of the Crucifixion by sculptor Giovan Angelo Del Maino and paintings by Bernardino Luini and Gaudenzio Ferrari. Not far from the Cathedral is the church of San Giacomo, Torre Pantera, Via Rodari and Teatro Sociale which was built on the site of Castello della Torre Rotonda (round-towered castle).
The chiesa del Crocifisso (Sanctuary of the Holy Cross), in Viale Varese is well worth a visit. The church has been worked and reworked from the sixteenth to the nineteenth century.
The route must not end without a visit to the romanesque Basilica of Sant'Abbondio, with its twin bell towers, in which there are splendid fourteenth-century frescoes. In full romanesque style is the Basilica of San Carpoforo situated close to Piazza Camerlata.


indietro